28 Jan

Michael J. Daugherty talks at the Heritage Foundation
The Shocking Exposé of the U.S. Government's Surveillance and Overreach Into Cybersecurity, Medicine and Small Business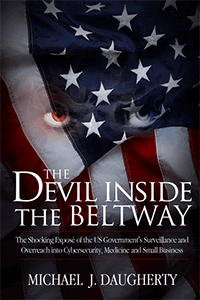 AUTHOR MICHAEL J. DAUGHERTY to speak about his book and his personal battle with the FTC.
Hosted by David Inserra, National Security and Cyber Security, Douglas and Sarah Allison Center for Foreign Policy Studies, The Heritage Foundation
Thursday, January 30, 2014 at 11:00AM, The Heritage Foundation's Lehrman Auditorium
RSVP here or call (202) 675-1761
Complimentary copies of the book will be provided by the author and publisher and will be available to be signed. Members of the media are invited to a private on-site reception with Mr. Daugherty immediately following the presentation.
Those who cannot attend are invited to watch online at heritage.org and follow the discussion on Twitter at #overreach14.